We understand that the band was first formed in 1895 as the 'Invicta Brass Band' and therefore suggest we can boast the title of the oldest surviving Village band in Kent.
It was founded by Thomas Henry Hughes of whom we have little information at the present but we are currently engaged in some research. We have a few photographs, this being the earliest: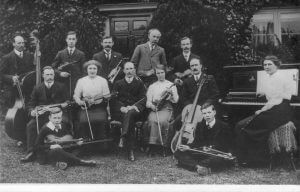 Thomas Henry Hughes with an unknown ensemble, Back row third from the left with a cornet
What else do we know about THH?… We have an entry from the 1911 census which gives his occupation as 'Publican' and his address The Merry Boys (formally 'Three Merry Boys') pub in the heart of the village where he lived with his wife Martha and a young domestic servant called Alice Maria Hood.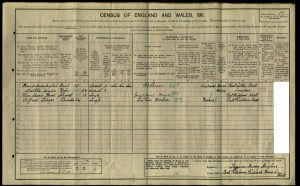 We also know for a fact that in June 1914 he emigrated to New Zealand and settled in the city of Nelson. He was well liked and popular and upon his departure the village gave him a send off, a presentation 'purse' (collection) was given to him and a beautiful handwritten book listing all of the subscribers was also presented. A few of the families listed are still in the village today.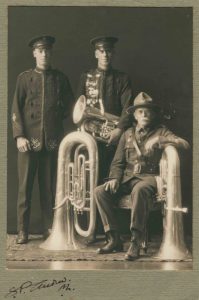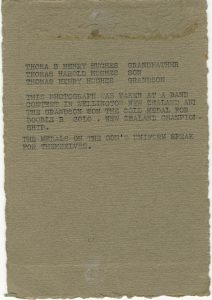 Thomas Henry seated, his son with a chest full of medals for his euphonium playing and his grandson on the left.